Third grade art: We completed Zonkey Cartoons in January using acrylic paint. If you want to know what a Zonkey is, check out this video:

(video from Art @ Apex HS, Ian Sands, instructor)
Fourth grade art: In January, we used "Design Thinking" to create actual wallets out of cardboard, paper, fabric, or duct tape. Design Thinking is a process of making quick prototypes out of cheap materials to work out design bugs, making changes in the final piece, and being open for revisions in later design cycles. In our case, students made two paper prototypes before we went on to the final art. Also, each student worked on a MINDMAP about wallets—their function, color, size, materials, etc. to oraganize their thoughts before prototyping.
Our technology integration team has suggested a free online platform called "Mindmup" for creating mindmaps. Created maps can be saved to Google Drive, and even shared for peer-editing.

Fifth grade art: Students worked in collaborative teams to make Graphic Novels, based on a randomly chosen literary tone. Students are learning about "tone" in Language Arts, and being able to combine text and words to emphasize the tone (such as "scary", "contemporary", or "funny") helps students understand the concept of "tone" better. Each table illustrated the Greek myth, "Pandora's Box", but the results were all unique based on the artists' creativity and tone. This art project was aligned with both state art standards and Common Core literacy standards.
"At Your Library" has a great listing of graphic novels appropriate for grades 3 through 5: http://www.atyourlibrary.org/connectwithyourkids/reading-together/best-graphic-novels-children#3-5
In February, all grades are participating in a very exciting project. We are making art for a collaborative photomosaic mural that will be displayed at Akron Children's Hospital in honor of their 125th anniversary. Parents, guardians, and friends will be able to enjoy the mural in October 2015, and find the images online once the mural is up at projectsnap.org/akronchildrens. You can learn more about this project (and see examples) from Project S.N.A.P., the organizers, at http://projectsnap.org/gallery-thumbnail/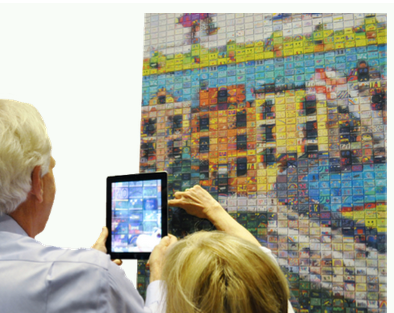 (image from Project S.N.A.P.)