Third grade students are wrapping up their Warhol-inspired soup can pop-outs. These three dimensional pieces started with brainstorming creative ideas for "What's in Your Can?", then moved onto label designing, before construction using colored construction paper and paper engineering techniques. Our next projects involve cartooning with "simple shapes" (square, rectangle, cycle, oval, and triangle), which is what artists use to build up their observational drawing skills. We will start with "Art Dogs", drawing "pups with personality" (and lots of color and pattern), then move onto "Zonkey style" cartooning in January.


Fourth grade students are working on their big Language Arts integration in their Manga cartooning unit. Manga is a Japanese style of cartooning that is very popular and widespread on channels like Cartoon Network and Nicklelodeon. We started with descriptive character writing, which was the template for their comic book cover and layout pages. I worked with the students on their punctuation, grammar, and descriptive writing skills before we transitioned to some serious cartooning! We look to wrap up this unit soon, then will be moving onto a "Zentangle" 3D paper cube. After break, we have a very exciting project coming up, a collaborative tile mural (much more on that to follow). For those of you interested in learning more on how to cartoon in the Manga style, I have a special board on Pinterest with kid-friendly instructions:https://www.pinterest.com/lgirbino/manga/
Fifth grade students completed their very detailed "Architectural Patterns", looking at famous architecture examples before using a viewfinder to help them pick out an interesting pattern to repeat and color in with colored pencils. This took a lot of patience and attention to detail, but as the students discovered, "repetition" is a powerful design tool.


Our next project, running into holiday break and beyond is a Calder mobile, using some of the amazing supplies generously donated to our art program from the Aurora division of GE (see our school newsletter HERE).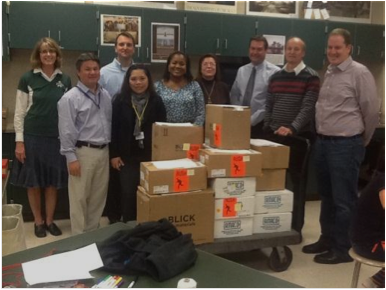 We are using watercolor paper painting watercolor patterns on one side, then oil pastels designs on the other. Eventually, we will assemble our kinetic sculptures (sculptures that move) using armature wire and yarn. My sample project is below.