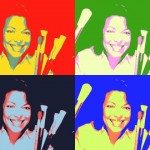 I graduated from the Cleveland Institute of Art with a BFA (5 yr. degree). For 14 years, I was a professional commercial artist, specializing in wallpaper and fabric design for clients all over the U.S. and Europe. I received my Masters in Education from Ursuline College. Just like my students, I am always learning and updating my skills with additional coursework and entering art shows. In addition to being the art teacher at Leighton, I teach graduate seminars and maintain a photography blog. I believe helping students be creative is the all-time best job!
A note on how to use this site: Click on the Archive for a specific date, click on a category to see grade level projects, tutorials, and more. From Fall 2016, the art must be approved by parents/guardians to appear in the gallery.
How Art is graded: a 4 point scale. 1=Beginning Proficiency, 2=Developing Proficiency, 3= Proficient, 4=Full Mastery (advanced) of Standard.