Once again, many cool websites to make art without downloads (screenshot below) at http://www.symbaloo.com/mix/elementary-upartwebmix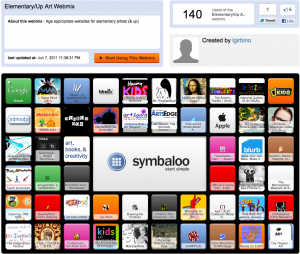 Art supplies, like we use at Leighton–> http://www.dickblick.com/
News from May/June: 3rd Grade is completing their 1-point perspective project, "Magic Boxes"(see below).


4th Grade completed their pastel art (after tracing shadows to make a composition) & are currently working on 1-point perspective street scenes in pencil with watercolor.


5th grade did 2 art projects–"Friendly Monsters (FM)" & "Altered Books (AB)". In the "FM" project, students drew friendly monsters in art, wrote a narrative description about them using Google Docs or Word in Media, then saved & emailed them to each other. Back in art, they drew a second picture from the description they were given randomly, which created a rich dialogue about what makes a good description! In the "AB" project, students took donated books and turned them into works of art, following a theme of their choosing. Each week different media was used including acrylic paint, fabric, yarn, small toys and broken electronics, beads, etc. This project is the culmination of their Leighton art experience with plenty of freedom to experiment and "think outside the box".


Here is the full video from 5th grade art club's participation in Rotoball 2012 (an international, collaborative animation). We are at minutes 2:41 through 2:53: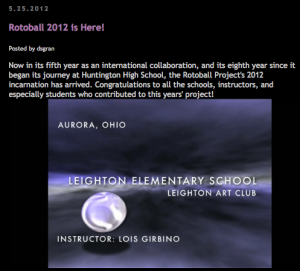 Please have a safe, fun, & creative summer! Even Mrs. Girbino will be sketching & drawing all summer to keep on practicing…I look forward to seeing what you create over YOUR summer!!!